[FINANSRÖST] Det är inte alltid lätt att kunna avgöra om mörka hudfläckar bara är leverfläckar eller döljer hudcancer. Det svenska medicinteknikbolaget SciBase har utvecklat produkter som med hjälp av artificiell intelligens kan kontrollera hudförändringarna utan att man behöver skära i huden.
SciBases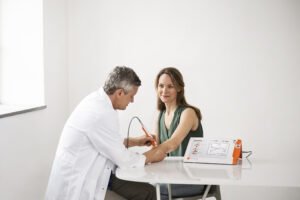 patenterade teknik för hudavläsning började utvecklas redan i slutet på 80-talet inom ett forskningsprojekt på Karolinska institutet i Huddinge.
Detta ledde så småningom till utvecklingen av ett instrument kallat Nevisense som under det senaste året  byggts på med ett antal kliniska applikationer för bedömning av icke-melanom hudcancer och hudens barriärfunktion.
Här använder man sig av tekniker där man med hjälp av artificiell intelligens tidigt kan upptäcka  hudsjukdomar.  Till exempel kan man avgöra om en hudfläck är den farligaste formen av hudcancer, malignt melanom eller en helt ofarlig leverfläck. Ett annat exempel är att man vid bedömning av hudens barriärfunktion potentiellt skulle kunna avgöra om ett eksemutbrott är på väg och i sådana fall sätta in förebyggande åtgärder. Det sker via en utrustning som skickar små elektriska signaler genom huden och där tekniken för AI analyserar data och hjälper läkaren att utvärdera eventuella hudproblem i ett tidigt skede.
Under de senaste åren har SciBases produkter använts för patientundersökningar i en rad länder, inte minst i Tyskland hos privata dermatologer. Och nu är siktet inställt på den stora amerikanska marknaden där SciBases senaste version av Nevisense för detektion av malignt melanom helt nyligen blivit godkänd av Food and Drug Administration (FDA). Därtill har man kunnat etablera ett samarbete med landets största klinikkedja, Advanced Dermatology and Cosmetic Surgery, som har 150 kliniker i USA.
Bland de nya produkter som nu är på gång i SciBases utbud märks en miniatyriserad version av instrumentet Nevisense som utvecklats i samarbete med KTH i Stockholm. Nevisense Go bygger på en applikationsspecifik integrerad krets som bara mäter 5×5 millimeter och därmed ger en mer kompakt och billigare produkt att hantera.
SciBases VD Simon Grant berättar för IT-Finans att den nya produkten öppnar för en betydligt bredare användning av företagets produkter.
– Eftersom allt ryms i en relativt billig penna ser vi goda möjligheter att få ut produkten till flera typer av läkare och dessa kan i sin tur förse sina patienter med egna pennor för att mäta hudförändringar på hemmaplan.
Sedan Nevisense lanserades 2014 har SciBase byggt upp en försäljning som under 2019 innebar 25 000 sålda tester, främst på den tyska marknaden men man räknar nu även med en kraftig tillväxt i USA. Dessa är Bolagets två fokusmarknader. Andra marknader där bolagets produkter finns tillgängliga såsom Belgien, Storbritannien, Australien, Schweiz och Österrike kommer att växa men i en långsammare takt.
– När det gäller den svenska marknaden har vi inte haft lika lätt att etablera oss eftersom det inte är så enkelt med ett system där man, till skillnad från exempelvis Tyskland, har en rad olika regioner att förhandla med, säger Simon Grant.
Från forskning till produkter
Medicinteknikföretaget SciBase grundades 1998 av Stig Ollmar, docent vid institutionen för medicinsk teknik på Karolinska institutet i Huddinge.
Den senaste produkten är Nevisense Go som är ett mätinstrument i kompakt pennformat.
Tillverkningen av slutprodukterna sker i samarbete med Kitron i Jönköping medan SciBase själva tillverkar elektroder vid en anläggning i Uppsala.
Företaget som är börsnoterat på Nasdaq First North omsatte 9,3 miljoner kronor under 2019 vilket är en ökning på 34 procent sedan året innan.
SciBases produkter ska nu börja användas vid den stora kedjan "Advanced Dermatology and Cosmetic Surgery" som innefattar fler än 150 kliniker över hela USA.
För mer information: https://scibase.com/